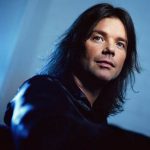 John Terry Norum has born February 23, 1964 in Vardø, Norway. Aged 1, his family moved to Sweden and he grew up in Upplands Väsby, a Stockholm's suburb.
In the Seventies, Swedish society encouraged young boys to take interest mainly in sports, whereas music – Rock music in particular – was badly considered or even taken to be as wasted time; it was therefore necessary to struggle not only for the success but also against the mentality and the prejudices of society. Many people considered that of musical success as a Swedish hopeless dream; the market was really restricted and there wasn't space for young ambitious musicians, as well as the dream of having success beyond Sweden…
John Norum got his first band – DRAGONFLY – at the age of 12, in 1976; the band took the name from the street he was living in, Dragonvägen. When he was 14, his step-father Thomas Witt got John into recording with Eddie Meduza the leader of Eddie Meduza & The Roaring Cadillacs band, a Swedish rocker. He played the guitar solo in "PUNKJÄVLAR" ("Punk Bastards"), released as a single in 1978. Eddie Meduza's albums reached gold-status as soon as they were released so it was definitely an early success; in 1979 John recorded two guitar solos (in "Punkjävlar" and in "I'm A Fighter") for Eddie's album "EDDIE MEDUZA & THE ROARING CADILLACS".
A bass player, Peter Olsson, asked John to join a band with him and a drummer, Werner. At the beginning the band worked as a trio, with John as singer and guitarist, then, after only two weeks the drummer left, being replaced by the Dragonfly and WC's drummer Tony. Together they re-founded WC band. Peter Olsson told his friends that the line up was ok but they needed a good singer. John thought of his friend Joakim, who was playing bass and singing in the band Roxanne. With Joakim the band was complete and they called themselves FORCE. At the beginning of 1981 the band had internal problems, Peter Olsson left the band for personal reasons, and the band remained without a bassist. While the band was in search for a new bass player, they recorded another demo in the same studio and Joakim was responsible also for the parts on bass. It was in this period that he started thinking that his name wasn't right and found a stage name suitable for him: Joey Tempest, taken from the Shakespeare's "The Tempest". The boys were 18 years old when the Product Manager of CBS Thomas Erdtman decided to organize the greatest rock competition ever held in Sweden, a national Contest for emergent Rock bands, the Rock-SM, as the one organized in Norway by Arnt Pedersen. Force worked hard for the competition and changed name into EUROPE. Europe won everything! Not only the Championship, but the two major prizes to Joey Tempest as best lead singer and to John Norum as best guitarist. The final prize was to record an album for Hot Records. Hot Records reached an agreement with Grammfon AB Electra and the first album of Europe, "EUROPE", was recorded.
On February 23rd 1984 "WINGS OF TOMORROW" was released, it sold 60.000-70.000 copies in Sweden only. Other three singles were released: "DREAMER", "STORMWIND" and "OPEN YOUR HEART". Gunnar Michaeli, from the band Avalon – better known as Mic Michaeli – was brought in to play live keyboards during the upcoming promotional tour, and he became the 5th member of the band. Without the band knowing, Thomas Erdtman fired Tony by letter. Håkan Jan Haugland (Ian Haugland for short) was brought in. In the same year, John recorded two more guitar solos (in "Hold Your Fire" and in "California") for Eddie Meduza's album "WEST A FOOL AWAY".
In August 1985, John played in collaboration with Joey as producer, in his sister Tone Norum's debut single "STRANDED" – that became a big hit – and in her first album "ONE OF A KIND". John played also in the other single "CAN'T YOU STAY".
On May 26th 1986 "THE FINAL COUNTDOWN" was released and sold gold before it hit the shops (thanks to the single) and in two months it sold 100.000 copies in Sweden only, and 7 millions copies in the world. They did a tour in Japan: Scandinavia and Japan were in love with Europe.
But John decided that he had had enough of the cute image, play-back, TV shows etc and he told the band he'd quit. He gave them enough time to find a replacement. On November 1st he was on his own.
Immediately after leaving Europe John formed a new band. His bassist friend Marcel Jacob (ex Power and Yngwie Malmsteen, Talisman) joined it. The first single "LET ME LOVE YOU" was released on October 16th 1987 (it reached the 2nd place in the Swedish charts), and on the same month 29th came out "TOTAL CONTROL". John showed his great affection for Phil Lynott and Thin Lizzy by recording Lizzy songs as B-sides. The band was, besides John and Marcel, drummers Henrik "Hempo" Hildén (ex-Trash) and Peter Hermansson (220 Volt), vocalist Göran Edman (ex-Madison and Glory) and Mats Lindfors on rhythm guitar and keyboards.
In 1988 John got in touch with Don Dokken for the first time; in September 1989 John moved to Los Angeles and he was brought in as the new guitarist of Dokken. As things turned out though, Don Dokken wasn't allowed to use his family name as a band name again, instead it became to be a DON DOKKEN solo album. The album with Don Dokken " UP FROM THE ASHES" was released in 1990, with a following tour in Japan. In the same year, CBS released "LIVE IN STOCKHOLM", with 3 tracks ("Eternal Flame", Don't Believe A World" and "Blind") recorded live in March 1988 and one track ("Free Birds In Flight") recorded in 1987. John put also in a brief appearance with Don Dokken in the Tommy Chong's first solo production "FAR OUT MAN" (also known as "SOUL MAN II").
As a result of the work with Glenn Hughes "L.A. BLUES AUTHORITY" and "FACE THE TRUTH" were released in 1992. The main vocal parts on the "Face The Truth" album were handled by Glenn. Hempo Hildén once more supplied the drums, although Mothörhead man Mikkey Dee also guested. On the "Face The Truth" European version, there's a duet with Joey Tempest: "WE WILL BE STRONG" – with Peter Baltes on bass again – was released as a first single and a video was made for it.
John didn't enter Swedish ground again until January 1994 when he teamed up with some Swedish rockers to do a "The Boys Are Back In Town" tour over 10 days. He also played as guest guitarist in Phantom Blue's album "BUILT TO PERFORM" (with his girlfriend Michelle Meldrum, lead guitarist, who became his wife in 1995) and in the Deep Purple's tribute "SMOKE ON THE WATER – A TRIBUTE" in which he played "Stormbringer" with Glenn Hughes as singer. In July he recorded his 3rd solo album, "ANOTHER DESTINATION", with Kelly Keeling (of Baton Rouge and Blue Murder fame), Fleetwood Mac bassist Tom Lilly and former Gary Moore drummer Gary Ferguson. It was released in Japan on July 1995. Only one promo single and videoclip was released before this album, "STRANGE DAYS".
In 1996 he recorded "Cold Gin" for the tribute album "SPACEWALK – A SALUTE TO ACE FREHLEY". The same year, on December 21st, "WORLDS AWAY" (with Kelly Keeling and Peter Baltes back on board) was released in Japan; the album was released in Sweden through Svensk Musik Distribution (M-D) on May 16th 1997 and "WHERE THE GRASS IS GREEN" was released as a single to support the album.
In the end of 1997 John did some more work briefly with Don Dokken, after George Lynch had left the band: he went to the States for just over a month to finish the tour. John put together a live band for a Japanese tour, these shows being recorded for the "FACE IT LIVE '97" album. Joining him onstage were Michael Schenker Group and Great King Rat vocalist Leif Sundin and his Great King Rat colleague Anders Fästader (previously known as Anders Nilsson). "FACE IT LIVE '97" was released by Zero in Japan. The album was released later in Sweden too, but once again a wrong promotion killed it.
In 1999, John's album "SLIPPED INTO TOMORROW" was released in Japan. The same year he also recorded also "Eighteen" for the tribute album "HUMANARY STEW – A TRIBUTE TO ALICE COOPER". 1999 was also the year of the incredible Millennium Gig for the New Year's Eve, with all the Europe members reunited for a special night: John Norum together with Joey Tempest, John Levén, Ian Haugland, Mic Michaeli and Kee Marcello.
In June, JNG and Brian Robertson performed together at Sweden Rock Festival in Karlshamn. John worked again with Midnight Sun recording "Dreams" for their album "NEMESIS" and he toured with them as guest guitarist at least for one show in Stockholm.
In May 2001 John teamed up with former Thin Lizzy and Motörhead guitarist Brian Robertson for a short series of Norwegian dates performing Thin Lizzy and his own songs. Featured in the live band was Street Legal and Da Vinci man Bjorn Boge on vocals and on bass "Wild Willy" Bendiksen of Bad Habits and The Snakes.
In the summer of 2001 John joined Don Dokken again, filling the gap left by a departing Reb Beach. This time only Don Dokken and Mick Brown were left from the original band. On bass was Barry Spark. In June DOKKEN featuring John performed at Sweden Rock Festival in Karlshamn. Later, they did a sort of "best of Dokken" tour in the US, recorded a new album called "LONG WAY HOME" and then went on tour in Europe. John's arm was injured in an accident during that tour and he was replaced by Alex DeRosso.
In March 2003, UFO had officially recruited John Norum as a replacement for Michael Schenker. However, in typical fashion a matter of months passed before Norum issued a statement declining UFO's offer of employment. In the same year, he toured with Whitesnake.
He would soon be back in the limelight, teaming back up with EUROPE for a reformation of the classic line up: on October 2nd 2003 Europe finally announced their reunion and that they were going to record a new album and headline at the Sweden Rock Festival 2004!With the largest audience ever at SRF and broadcast live on national radio Europe got back on track, the title track of the new album "START FROM THE DARK" proved them to leaning towards the heavier stuff. The album was released on September 22rd, 2004. Two singles and videos – "GOT TO HAVE FAITH" and "HERO" (dedicated to Phil Lynott) were released and the "Start From The Dark" tour in 89 dates reached all the Europe, the US, Russia and Japan. While writing material for the "START FROM THE DARK" album, John also worked on his solo album "OPTIMUS" that was released on John's birthday, in February 23rd, 2005. In 2005 John worked with Kelly Keeling recording "Nothing" for his new "GIVING SIGHT TO THE EYE". In the same year, John also contributed with his interpretation of "Stay With Me" (voice and guitars) to a Frank Marino tribute album released by WildMess Records and entitled "SECONDHAND SMOKE".
In October 2006 the new Europe album "SECRET SOCIETY" was released and few weeks later it was released the first single "ALWAYS THE PRETENDERS". The same day of the album's release, the new world tour started in Lund, Sweden, and it ended with two great performances at the Dalhalla, in Rättvik, Sweden, the 1st of September 2007. The songs performed during the first of the two nights were recorded and released on the web. The 25th of April, 2008 it was published Europe first official tourbook, with pics taken during their last two world tours. During the winter, John has recorded his long awaited new solo album, that will be released next 17th of May, 2010. "PLAY YARD BLUES" is a fantastic collection of John Norum originals as well as some covers. This album shows a little different side of John. The trademark sound and riffings are definitely there but John also follows a more bluesy approach in several songs.
John performed with Europe once again in Sibiu, Romania, the 31st of December, 2007 and later at the Nalen in Stockholm, the 26th of January, 2008: it was an extraordinary event called "ALMOST UNPLUGGED", a semi-acoustic concert that was webcasted entirely on the official site. During that night, they played some songs of the band that influenced their career: Thin Lizzy, UFO, Pink Floyd and Led Zeppelin. The 17th of September the CD was released, and the 8th of December the double vinyl was released in a special limited coloured edition.
The 21st of May 1988, John's wife Michelle Meldrum suddenly passed away, as a result of a cystic growth that has restricted oxygen and blood flow to her brain, rendering her braindead. In loving respect of her memory, Europe cancelled their appearance at the first of the planned festivals of the summer tour, in Norway, expected 10 days later. In December 2008, it was time for Europe to enter the studio and to start the recording of the new album "LAST LOOK AT EDEN", that was released on spring 2009 and that was followed by another world tour started in Chile. Two singles and videoclips were released on the web to promote the album: "LAST LOOK AT EDEN" and "NEW LOVE IN TOWN".
The second of guitarist Janne Stark's tributes to the Seventies was released on Grooveyard Records on February 2010. The album, simply entitled "MOUNTAIN OF POWER – VOLUME TWO", features John Norum showing his love for Frank Marino in a guitar-overdriven cover of "Talkin' 'bout A Feeling". On March 2010 Mascot Records has released the compilation "WHERE BLUES MEETS ROCK", with John's new solo track "Let It Shine".
In May 17, 2010 Mascot Records has released "PLAY YARD BLUES", last John Norum's solo album. On December, Norwegian guitarist Håvard Pedersen's new album titled "NEVER FELT SO GOOD" and featuring John playing and singing the Thin Lizzy's cover "Still In Love With You", was released by Cinematicworld Records.
Back from a successful tour in Japan and Taiwan, a European summer tour  and a tour in South America, he has left again for UK, for the Balls 'n' Banners tour, last February 2011. A "BALLS 'N' BANNERS" CD + DVD live of the show in London was released during the summer, followed by the Earbook "LIVE LOOK AT EDEN" released by Edel, in a MINI, MAXI and LIMITED (signed) edition.
In October 2011 the band started the recording the new album "Bag of Bones", that it was released this April 18th on Gain/Sony (Scandinavia), EarMusic (Europe) and Victor (Japan), in vinyl and CD edition. Few weeks earlier, the 9th of March, the first single "Not Supposed to Sing the Blues" was released only in digital version. On May 1st the BOB Europe's world tour has started in Wroclaw (Poland), and ended in Helsinki (Finland) on December 21st.
Source: Offical John's website

In 2014 War Of Kings is released and in 2017 Walk the Earth, the eleventh band's record.
Career
During his career in music, Norum has also played with Eddie Meduza & The Roaring Cadillacs, Dokken, Don Dokken's solo band, as well as collaborations with other well-known artists in his solo albums, including Glenn Hughes, Kelly Keeling, Peter Baltes, Simon Wright and Göran Edman.
Personal Life
While living for a few years in the United States, he met and married Michelle Meldrum in 2005, founder and lead guitarist of the all female hard rock band Phantom Blue and the Swedish metal band Meldrum.[2] The couple had one son, Jake Thomas, born on September 22, 2004. Michelle died on May 21, 2008, due to a cystic growth in her brain. On April 16, 2012 he had a son, Jim Henry, from his Swedish fiancée Camilla Wåhlander. The couple had also a daughter, Celine Margareta, born on 28 July 2014.

John Norum is the older brother of singer Tone Norum and his stepfather is Thomas Witt, a former record producer, Columbia executive and drummer for Eddie Meduza

Sources: wikipedia